Legal notices
Statutory Supplier Identification:
Roberto D'Ambrosio
Dambiro.de
Max Planck str 20
70806 Kornwestheim, Germany
Germany
Phone: 07154 - 1579204
E-mail: info@dambiro.de
VAT Id No .: DE235799318
 
The European Commission provides a platform for out-of-court online dispute resolution (OS platform), available at http://ec.europa.eu/odr.
We are a member of the "FairCommerce" initiative.
For further information, please visit www.fair-commerce.com.
Legal information about the website
All texts, pictures and further information published here are subject to the copyright of the offerer insofar as copyrights of third parties do not exist. In any case, duplication, distribution or public reproduction is permitted only in the event of revocable and non-transferable consent by the provider.
The provider assumes no responsibility for all web content linked to the cross-reference (link), since this is not our own content. The linked pages were checked for unlawful content; at the time of the linking, they were not recognizable. Responsible for the contents of the linked pages is their operator. The provider does not have a general monitoring and auditing obligation. In case of an infringement, the corresponding link will be removed immediately.
Design, creation and technique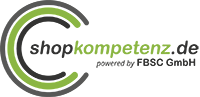 FBSC GmbH | www.shopkompetenz.de